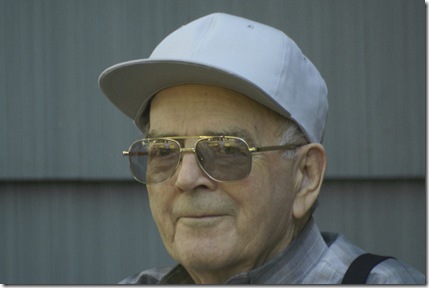 Mr. Robert R. "Bob" Ducatte, 80, of Park Row, Cadyville, N.Y., passed away Wednesday, Sept. 2, 2009, at the CVPH Medical Center in Plattsburgh with his family by his side. He was born in Plattsburgh, N.Y., on April 27, 1929, the youngest child of Michael and Maude (Simmons) Ducatte.

Bob was a line foreman for New York State Electric and Gas retiring in 1987 after 41 years of service. He was an avid New York Yankees fan and enjoyed woodworking, carpentry, wood carvings and collecting coins. Bob was a member of the Quarter Century Club at NYSEG. He had been a member and past treasurer of the Cadyville Volunteer Fire Department and was a member of the board that founded Clinton Community College. Bob was a veteran of Korea, serving in the U.S. Army, and he was a member of St. James Church in Cadyville.

He was predeceased by his parents, Michael and Maude Ducatte; and several siblings.

Bob is survived by his wife of 58 years, Viola "Vi" (Bassett) Ducatte of Cadyville; three sons, Alan Ducatte of Plattsburgh, Dale Ducatte of Atlanta, Ga., David Ducatte and his wife, Johanne of Plattsburgh; two daughters, Donna Cringle and her husband, Kenneth of Saranac, Deborah Facteau and her husband, James E. of Saranac; one sister, Myrtle Shelters of Morrisonville; 11 grandchildren, Robert Brault and his wife, Heather of Saranac, Cari Brault and her fiancé, Ryan of Alexandria, Va., Scott Brault of Albany, N.Y., Joshua Cringle of New York, N.Y., Adam Cringle of Albany, N.Y., Nicole Facteau of Saranac, Rebekah Facteau of Brooklyn, N.Y., Sarah, Alisha, Marissa and Cynthia Ducatte, all of Plattsburgh; one great-granddaughter, Kylee Brault of Saranac; and several nieces and nephews.

Bob will be deeply missed by all who knew and loved him.
The hardest part is getting used to something I never even noticed before: that I had these constant conversations going on in my head that I wanted to share with you, these lists of things I tucked away in the corners of my mind for the next time I spoke to you on the phone, or for my next visit back home.
But now you're gone and there is only silence … an infinite, empty silence….
Bye, Dad….